PARTNER WITH A COMPANY THAT OWNED A ROOFING COMPANY
I have spent tens of thousands of dollars on online advertising with AT&T and other companies, but often didn't get the results I am looking for. The work Visible Roofer has been doing has taken a little time to develop due to the nature of SEO, but it is definitely working. When you are able to get $100,000+ profit jobs from it like I have, then it makes that little bit of time well worth it. I get bombarded every day from marketing companies saying that they will get me on the first page of Google, but I'm not leaving the Visible Roofer for anyone because what they are doing works. They have earned my trust.

Darin Garrett of Jakes Roofing & Coatings
Before I found the Visible Roofer, I had used several different SEO companies that all just took my money. Damon and his team have been the only ones to deliver and I now have dozens of first page listings in my city for multiple terms like Roofing Stratford, Roofing Contractor Stratford, and more. I have excellent placement and get consistent phone calls from their work. I also love the personal care and interest that Damon has taken in my business. He has done a lot for my company's online visibility and we have become really good friends. In life you have to pass it forward and Damon does that!

Saul Robles of Kellner Roofing
OUR ROOFING CONTRACTOR MARKETING CONSISTS OF THE FOLLOWING TO MAKE YOUR PHONE RING
If you use a contractor lead service to buy contractor leads, you most likely have to share them with other several other companies, unless you want to pay upwards of $75-150+ per lead for them to be exclusive roofing leads. If you've used a lead buying service, you know that most of the leads you buy aren't very good. If you're lucky, you might get 5 decent leads out of every 10 you purchase. But that's rare and more often than not, that number is worse. Your own website can produce far superior results. On average, at least 9 out 10 calls or webform submissions that come through your own roofing website or Top Google Maps placement are solid, real customers. So why do most contractors continue to buy bad leads? We say stop buying roofing leads and contractor leads that you have to share. Start generating exclusive roofing leads with your website.
Generating your own exclusive roofing leads and calls is a better and less expensive option. With our Roofing SEO and Top Google Maps Placement, we help clients gain highly coveted visibility for dozens of the most searched roofing terms that drive traffic in your area. If you are looking for long term sustainable growth and consistently superior leads and calls, than our program can literally change your business.
1. Control: In order to eliminate your reliance on buying less than stellar leads, you would be taking control, both in terms of your website's rankings and your business' lead generation activities. Ultimately, by nixing your dependency on buying leads and focusing on lead generation through your website, you're taking control of your own destiny.
2. Savings : By implementing our roofing lead generation processes, you'll save a lot of money by generating leads organically. Research has consistently shown that companies focusing on inbound lead generation experience a 62% lower cost-per-lead than companies that use outbound tactics for lead generation. In short, incoming calls are better.
3. Quality : Because we tailor your lead generation activities to attract the exact type of prospects you're seeking, the exclusive leads we help you generate are of much higher quality. It's not rocket science, higher quality incoming calls and leads equals a better lead-to-customer conversion rate.
YOU AREN'T JUST A NUMBER WITH US AND WE ACTUALLY KNOW ROOFING.
THE BEST ROOFING WEBSITES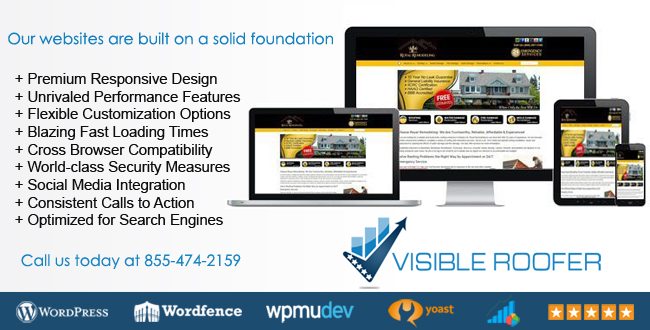 ARE BUILT TO PERFORM & CONVERT
At the Visible Roofer, we build great looking, high performance roofing company websites for just a one-time fee. All of the roofer websites we build are cross browser compatible as well as tablet and mobile responsive.
With other companies that offer roofing website design services, you might be waiting weeks or even months to get your roofing website built. We'll get your site up and running in just a couple of business days! Our turnaround time is virtually unmatched, and we'll be more than happy to put you in touch with clients that can attest to the speed and quality of our roofing website builds. We get things done quickly around here, because time is money and we waste neither.
Not only do we build some of the best looking roofing websites around, we utilize some of the best roofing website templates. Our themes are extremely flexible and we'll customize your site to flow perfectly with your current branding initiatives. Roofer website designs from the Visible Roofer are built and optimized to maximize conversions into direct calls and exclusive contractor leads.
NOBODY BUILDS BETTER, FASTER LOADING WEBSITES THAN US. NOBODY!
We were using Kudzu.com for our SEO and our website did not rank on the top 50 pages. They told us it takes several months to see any results. After getting fed up paying for no results, I found Visible Roofer. They were able to refresh our website with excellent graphics, content, and keywords. They dramatically expanded the coverage of my business and we started ranking within 3-4 weeks. I strongly recommend using Damon and his team for any type of SEO.

Douglas Hann of Royal Remodeling
Just want to say thanks for the work you've done so far for us. I really needed this SEO to work and it made me a little nervous when we first started, but you've been very helpful in answering all my questions. Our site which was new, started ranking in just a few months and we are now on the first page of Google in El Paso for dozens of keywords. We even have #1 and #2 rankings in Google Places. Thanks Damon!

Jesse Rojas of Roof Solutions & Construction
Damon with Visible Roofer is great! He is honest, stands behind his work when it comes to SEO and has the experience to provide valuable perspective when it comes to your website. I especially like how Damon took the time to make sure I understood how things work, he really goes above and beyond to help. Visible Roofer has great prices, flexible options, and excellent customer service.

Tarin Ferrill of Gulf 2 Bay Roofing
We have used Visible Roofer to build us a couple of websites and they delivered both of them within a day. We have used other companies in the past and all have dragged their feet for weeks. Visible Roofer has earned our trust.

Jennifer Graves of A Plus Roofing
I have worked with multiple SEO companies and nobody has been able to get me high rankings, except for Visible Roofer. They got me multiple top rankings throughout Los Angeles County and they are the only that has actual done what they said they would do. What is wrong with these other companies?

Tony Figueroa of Best Roofing
Damon you're the man! I am impressed with the phenomenal service and the fact that my website was up and running within 1 day. I would definitely recommend your service to anybody who wants to get a nice looking website built affordably. I'll be using you again for a few more sites.

Mario Moore of Husky Commercial Roofing
You delivered our website in record time and working with you has been a simple, efficient process. I am also impressed that you were able to achieve significant ranking results rather quickly. Your ability to understand and execute SEO is a breath of fresh air. Well done!

Tim Cochran of Right Choice Construction
Damon my friend. The site looks very nice and I am pleased. Thank you for also giving me a good deal on my SEO campaign. I look forward to lots of leads in our busy season. Thank you again my friends.

Javier Chavez of American High Tech Roofing Coatings
This information is completely free and there is no obligation. Please allow for up to 1 business day to receive your report. Submissions on weekends will be delivered on Monday. We will never spam because well... spam sucks!