The Best Roofing Websites Start with a Solid Foundation



At the Visible Roofer, we don't just build some of the best looking roofing websites around...  we build high performance roofing websites that are built to rank well in Google and convert traffic into calls and leads. All of the roofer websites we build are cross browser compatible as well as tablet and mobile responsive.

With other companies that offer websites for roofers, you might be waiting weeks or even months to get your roofing website built. Not with us! We'll get your home page and first version up and running in about 4-5 business days! Our turnaround time is virtually unmatched, and we'll be more than happy to put you in touch with clients that can attest to the speed and quality of our roofing website design services. We get things done quickly around here, because time is money and we waste neither.
Speaking of time. Nobody builds faster loading websites than we do. Nobody! Visit our Speed Test page for the proof. Our head to head test proves that we build the fastest and best roofing websites around.

A few of our Roofer Websites
Click below to open up each one
What's Included with our Roofing Website Design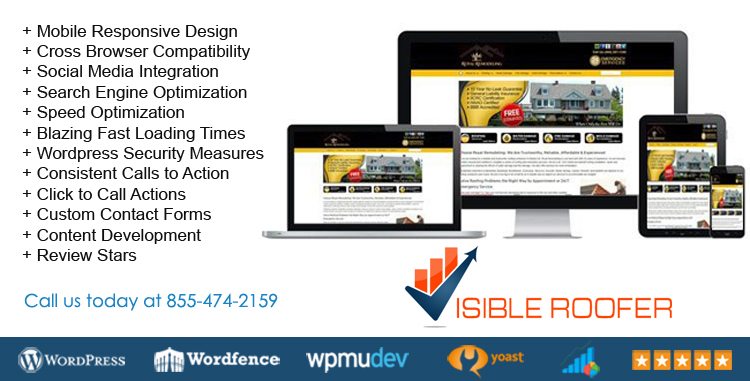 Visible Roofer is great! They are honest, stand behind their work and has the experience to provide valuable perspective when it comes to your website. I especially like how Damon took the time to make sure I understood how things work, he really goes above and beyond to help. Visible Roofer has great prices, flexible options, and excellent customer service.

Tarin Ferrill of Gulf 2 Bay Roofing
We have used Visible Roofer to build us a couple of websites and they delivered both of them within a few days. We have used other companies in the past and all have dragged their feet. We were blown away by how fast Visible Roofer was able to get our sites done. I highly recommend them.

Jennifer Graves of A Plus Roofing
Damon you're the man! I am impressed with the phenomenal service and the fact that my website was up and running within a few days. I would definitely recommend your service to anybody who wants to get a nice looking website built affordably. I'll be using you again for a few more sites.

Mario Moore of Husky Commercial Roofing
You delivered our website in record time and working with you has been a simple, efficient process. I am also impressed that you were able to achieve significant ranking results rather quickly. Your ability to understand and execute SEO is a breath of fresh air. Well done!

Tim Cochran of Right Choice Construction
What Makes a Good Roofing Website?

There are certain principles that one should follow when doing web development and we try to adhere to these 10 practices of good web design to make the user experience quick, easy and painless.
In addition to these main practices our Roofing Websites all include the following:
Easy navigation + clear call to action
The top header includes your logo with a clear and concise menu navigation including your phone number, social media integration and press to call buttons on mobile phones. The header stays fixed on top so they're always visible which makes for easy navigating and conversion.
Estimate request tab
This tab remains constantly visible on the left hand side of the website, even as the visitor scrolls which gives your visitors an easy way to become a lead.
Integrated Manufacturers & Accreditation
Users appreciate credibility so the more we can cater to this the better it goes for turning a visitor into a phone call or webform lead.
SEO & city specific, targeted landing pages
This is where most of the SEO takes place as we create and optimize content relative to your chosen cities and specific roofing services. We build out landing pages for each city that we target for you so that they are optimized for best search engine practices and visibility. Whereas most companies do not build out specific landing pages for each city, we build out pages for each city to assure optimal optimization. Most contractors target a geographical range of at least 25 miles of which there are usually 15-20 cities within that radius. We don't just target 1 city for you. We get you visibility in over a dozen cities.
Site footer with additional buttons and calls to action
Users don't want to have to think so we make use of this area to include additional calls to action, social media buttons, social media feeds or anything you wish. This area can be used to build additional trust factors while encouraging calls and web leads.