Roofing SEO and the Best Roofing Keywords



We are often asked what are the best terms for Roofing SEO so here are the main terms that drive the most traffic.
Roofing SEO can be a very valuable method to use to help generate incoming phone calls and web inquires. In our experience over the last several years, we have found that incoming calls and leads generated through Organic Roofing SEO methods produce quality leads 9 out of 10 times. This is in stark contrast to PPC methods whereas you might experience 6 out of 10 leads that are good. That number drops dramatically when you actually buy leads or have to share them with other contractors. Our clients are also closing on average, 60-80% of the incoming calls they get through our Roofing SEO campaigns.
So how do we consistently deliver high quality incoming calls and leads? We have been experts in Roofing SEO since 2011. We have clients that have been with us for years and do you think that they would stay with us if our Roofing SEO program wasn't effective? No they wouldn't. If you would like to contact some of these clients, just let us know and we'll happily provide their personal cell phone numbers.
One of the most valuable methods of our Roofing SEO program is our SEO Keywords / Keyterms list. We have developed a list of the most commonly searched terms for the roofing industry and have also determine how much organic traffic is available in 50 of the Major Cities in the United States.
Based on our research (reviewing the historic trends on Google, Yahoo and Bing), we know what terms are critical to include, but whereas most Roofing SEO companies put a limit on the amount of terms they actually target for you, we do not put any limits on our campaigns. The goal of every single one of our campaigns is to throw out as big of a net as possible so that your site will obtain top visibility for hundreds of terms.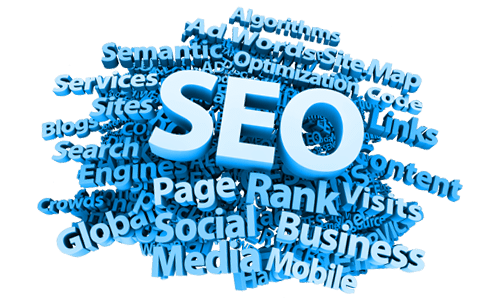 Here is list of the most searched Roofing SEO keywords related to any roofing business:
Roofing | Roofing Contractor(s) | Roofing Company | Roofing Companies | Roof Repair(s) | Roofer(s)

There are also dozens of additional secondary and longer tail terms like:
Commercial Roofing | Foam Roofing | Flat Roof Repair | Tile Roof Repair, etc.

The longer tail keyword list can go on and on because every Roofing Contractor offers a different set of Roofing Services ranging from Residential to Commercial to Flat Roofing to Slate Roofing. The more terms that we can target for you, the more effective your overall campaign will be. Oftentimes, these secondary and longer tail terms that are more targeted to specific types of roofing are excellent at converting visitors to incoming calls and leads. Why? Because while they might not generate as much traffic as the main terms, they are more laser focused and therefore a more targeted search. These longer tail terms will often outperform the main Roofing SEO keywords in terms of conversion.
Our Roofing SEO is virtually unmatched in terms of several factors that we will not go into here, but like the name says: the Visible Roofer is geared towards making your site as visible as possible and we do it for hundreds of keyterm possibilities. Don't let any company sell your Roofing SEO short, by limiting the amount of keyterms they target. Those are the companies that are just trying to take your money.
Interested in learning how we can increase your traffic, calls and leads?
Click on the button below to schedule a time to chat.
Did you know that in the roofing niche, just 1 single click on PPC can cost upwards of $50. Yes, that's 50.00 in USD not Pesos. Take the term: Roofing Company Austin. This keyword costs $42.65 per click and there are many more throughout the United States just like it. Yikes! With our program, it would be considerably less to target this main term because we do not charge any pay per click fees. In addition to that, higher traffic terms can sometimes have lower conversion rates so paying $42.65 for 1 click is absurd to us. Our Roofing SEO program will dramatically lower your online marketing costs while increasing your quality lead ratios.
Even if you choose not to work with us, make sure you do some homework and do extensive keyword research for your area. Ask whoever you are working with to provide a complete list of what it is they are targeting. Here is a list of keyword tools you can use on your own to find your own list of terms that will take your roofing business to the next level...
Google AdWords Keyword Planner
This tool recommends keywords based on a keyword you enter or a URL you have the tool analyze. Has a traffic estimator feature which shows the estimated bids prices and ad clicks for the top ranked AdWords ad. Allows you to check for [exact match], "phrase match", or broad match. Hint* Get exact match numbers first.
Google Suggest Tool
Shows frequently search for phrases starting with the words and letters in your query. Uber Suggest is a more feature-rich tool which uses Google Instant keywords to generate suggestions. KeywordTool.io is similar to Uber Suggest.
Bing Ad Intelligence
Brilliant extension for Microsoft Excel which puts a load of great keyword research data directly into Excel. Bing also offers an online keyword toolset here.
WordStream Keyword Tool
Allows you to export a list of thousands of keywords for free.
Wordtracker Free Keywords
Free keyword suggestions from Wordtracker. Wordtracker also has a more advanced paid version, and sells top keyword reports.
Keyword Discovery
Free keyword tool from Trellian. Trellian also has a more advanced paid version of Keyword Discovery.
Wordze
Nice for generating decently large keyword lists quickly and inserting them into paid search campaigns.
7Search
Smaller database from their smallish PPC ad network.
Grep Words
API-based keyword tool.
Better Visibility through Roofing SEO can change your business...
Click on the button below to schedule a time to chat.