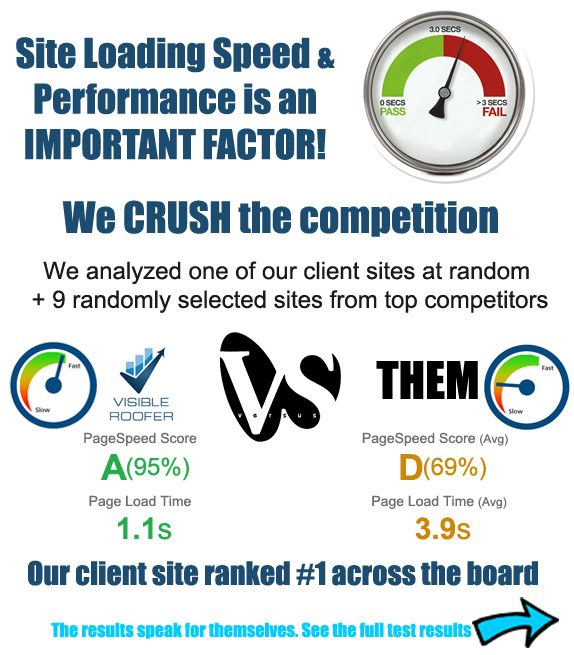 Speed matters. It matters to Google and it matters to prospective clients that visit your site. So then why are so many so called web design and search optimization experts building bad performing websites? This is an industry wide issue and quite frankly - we find it appalling that companies in our industry are performing such shoddy work.
So to prove to everyone that we build and optimize the fastest sites for roofing companies, we ran a speed test comparison through GTmetrix.com and the results were - shocking, but not surprising to us. We already knew going in that we build very fast loading websites, but even we were a bit shocked to see the vast difference between our site versus other "experts".
Simply put, we smoked everyone, including several multi-million dollar companies that claim to be the best. Once again, we are proving that going with a bigger company doesn't get you better results and this test further proves what we've known all along...
We're the Real Roofing Website Experts
The Performance Test
We chose 9 competitors that either 1) Claim to Build the Best Roofing Websites or 2) Claim to Offer the Best Roofing Marketing or both. We then ran a search to find their client sites and picked 1 client site from each at random and picked 1 of our clients' sites at random. *Note - our client sites all score high, but we still made it random for this test purpose.
*Note - we ran this test late in the evening so that server traffic would be lower than normal and server response times would most likely be at their highest. Since servers get bogged down with more traffic, this test didn't have much outside interference. Page load speed will vary due to server load. We aren't concerned about page size in this test so you should ignore it. A site can have a large page size and still load faster than a site with smaller page size if it is optimized properly.
The Test Results Don't Lie. We Beat Everyone in All Categories.
While other companies claim to be the best. We simply prove it.